The Scarriff Inn is a family run guesthouse under the new ownership of David and Katie Farrell and their family. The Scarriff Inn takes itís name from Scarriff Island one of the many islands which it is overlooks. It is famous for overlooking 'the best view in Ireland' with views of Kenmare Bay and Bantry Bay and of Derrynane and itís beautiful beaches and park. Patrons are treated to this view from every seat in the bar and restaurant. Guests staying at The Scarriff Inn can wake up to this magnificent view as all our accommodation boasts a sea view.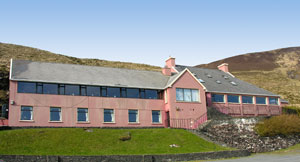 The Bed and Breakfast in Caherdaniel is located exactly half way round The Ring of Kerry, so it is an ideal base from which to explore The Iveragh Penninsula, The Dingle Penninsula, Killarney Lakes and of course the World Heritage site of Skelligís Rock. The boat to Skellig Rockleaves from the pier under The Scarriff every morning, weather permitting, so you can have a fabulous Irish breakfast before steeing off for the day to explore one of the worldís most famous sites. We will prepare a nice packed lunch for your voyage and organise all booking arrangements for your trip if needed.
If you like golf we are spoiled for choice with 2 superb Golf courses less than 5 miles away, Skelligís Bay golf course and the world famous Waterville Golf Links, voted best Golf links in Southern Ireland and number 13 in the Irish and British Isles. We can organise tee times at either course and clubs if needed. Of course the fishing experience is second to none with a choice of deep sea fishing or fishing on Lough Currane or The River Inne. Lough Currane has produced 2 trophy fish already this year, 11lb 2 oz Sea Trout and a 19 lb Salmon, we can even supply rods and bait if required.
If you prefer just to relax and enjoy the wonders of nature we are overlooking Derrynane Historical Park and itís wonderous tropical gardens and ideally situated on The Kerry Way, we can provide you with walking maps and routes. You can visit Staigue Fort 5 miles from us and the interpretive center nearby.
There is an abundance of activities for families with young children or teenagers, you can enjoy horse riding at Eagle Rock equestrian Center or Watersports at Derrynane sea sports including surfing, waterskiing or canoeing. They also have organised half day events with age appropriate activities so you can relax on the beach while your children are well looked after.
We look forward to welcoming you during your visit to The Ring of Kerry, to provide you with some fine food, accommodation of simply a pint of Guinness overlooking Irelandís finest view!
David & Katie Farrell.